The company Soven, from Selnica ob Dravi is eco-friendly family manufacturing company. Its work since 1996 and is registered for processing unwashed and washed sheep's wool in line with the European regulation in this area and the basic European guidelines.
Years ago, when in Slovenia nobody know and talk about circular economy, the company Soven starting to plan production in the way to qualify this conditions.
Sheep wool in the true sense of the word is not waste, but it can be. Wool is an animal by-product intended for further processing. However, if the breeders discard the cut and unwashed wool into the forest, into the karst cave, into the ditch or even burned it, sheep's wool is a waste that burdens the environment.
At Soven we have taken a strategic and organized approach to processing sheep wool. The basic input material (unwashed sheep wool) is purchased from breeders in the field, or the breeders bring it for purchase at a company in Selnica ob Dravi.
At least 70% of the produced wool is bought from Slovenian breeders annually, but more could be bought, but some breeders do not want to deal with it. By selling wool, breeders earn some money, while preventing environmental pollution. Some countries around the world either grant paid buyers a buy-in concession or have wool growers pay the same as for the disposal of other waste. In Slovenia, this is a complete burden on wool processors, which is not a lucrative business. Nevertheless, Soven manages this activity with great enthusiasm and replaces the redemption funds with the added value of other products.
For Soven, it was not only a challenge to process shorn wool, but also from inferior quantities of wool, which used to be a waste product in the production of typical woolen products such as woolen bedding, woolen yarn, to make a still useful product for construction or agriculture.
Guides and guidelines in developing and recognizing a business
Quality management means: Developing, designing, manufacturing and servicing a quality product.
The product must be economical, usable and must satisfy the consumer.
A quality product cannot be achieved through control, a quality product must already be made.
The quality of the product must not be left to chance, the quality must be the result of the efforts of all employees.
And also about the company and us employees
We have the knowledge, courage and confidence of our customers and suppliers.
When we sell around the world, we see that there is no reason to be shy and self-conscious.
We do what we love to do.
At Soven, we have a strategy and scenario ahead.
The vision of company Soven
The brand SOVEN – S Slovenian O sheep's V wool E eco-friendly N natural is one of the most recognizable brands in the field of NATURAL WOOL in Slovenia with a leading market share in the region and with the assessment that these are high quality woolen products.
Soven's vision is to produce high quality wool products for human health and good relationship with nature. Soven will continue to strive for a circular management of local Slovenian materials and the production of only 100% natural products.
Soven products improve the quality of life, as natural insulation for houses, or as bed and home products.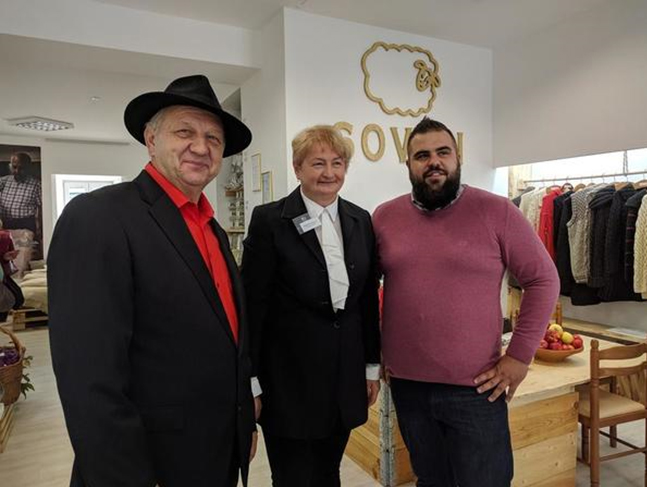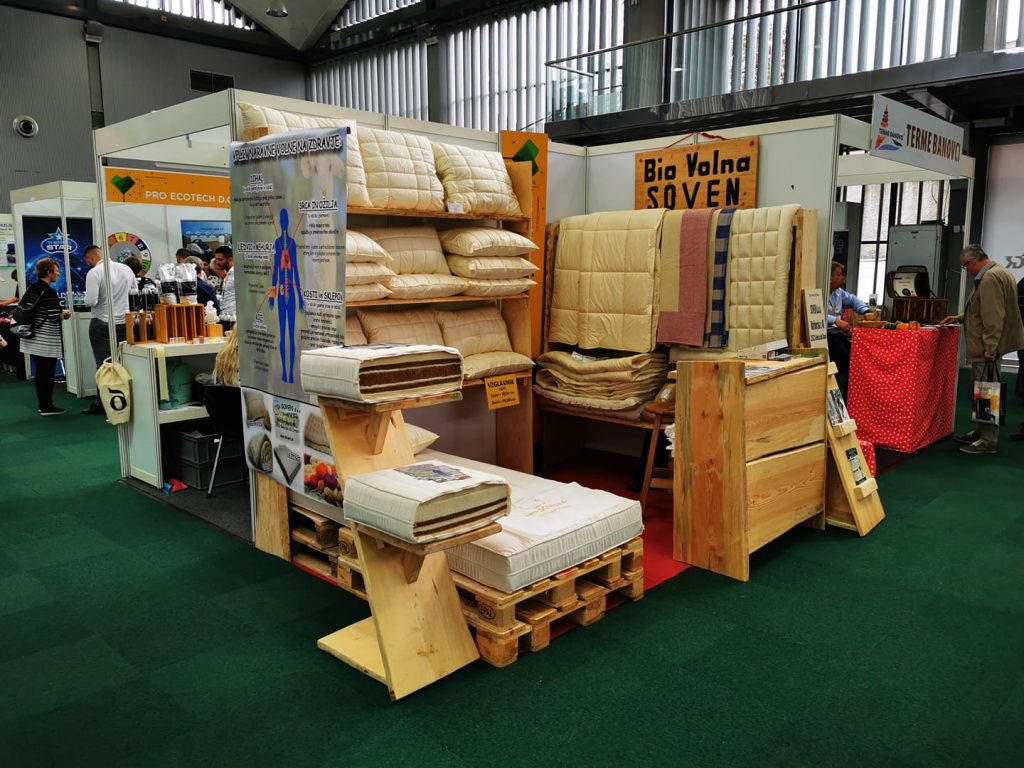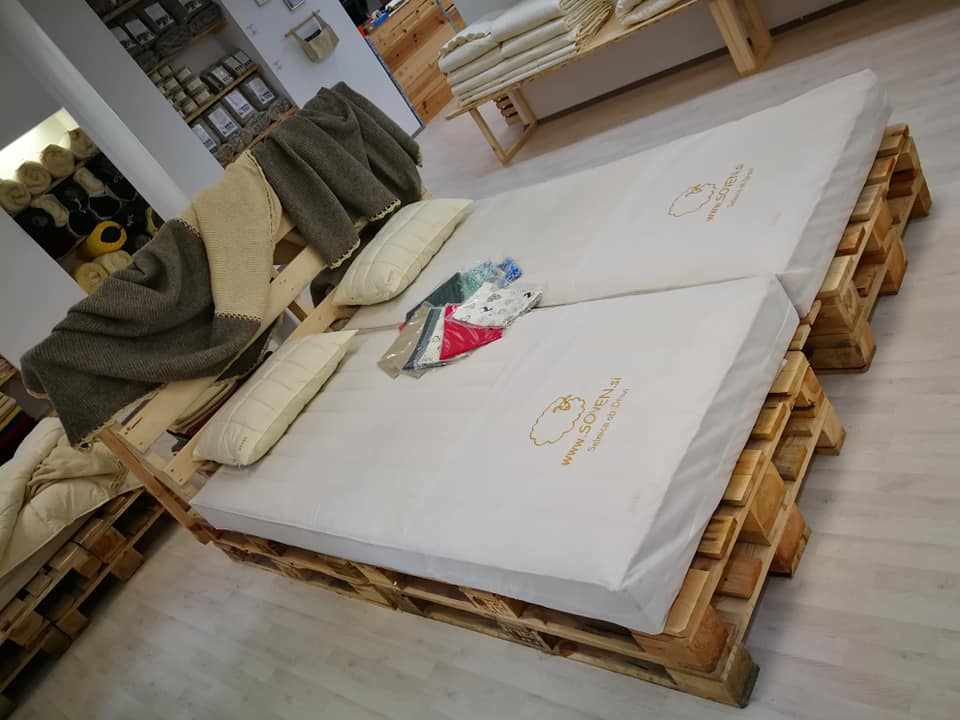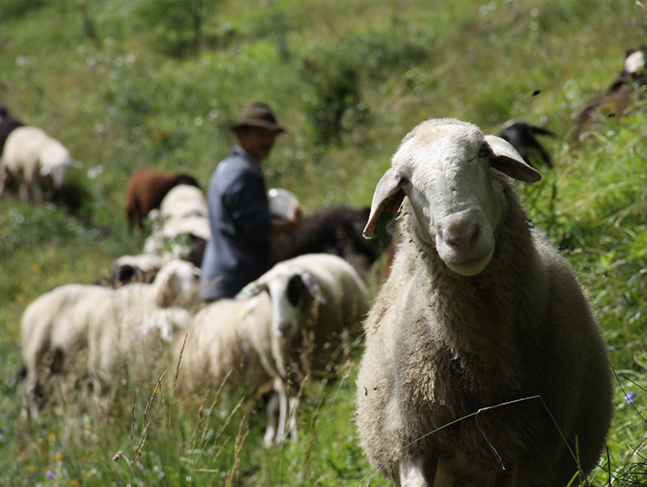 1996 – was a time of serial decline of Slovenian industry and dismissal of employees. It was extremely unusual for Leon Srblin – the founder, who was not a redundant worker, to quit a stable company and wanted to embark on an independent entrepreneurial journey. His challenge was to have his own production, with complete cost control, to make natural, environmentally friendly products made of local, Slovenian materials, useful for everyday life, but of a quality that would outpace competition in the domestic and foreign markets.
1996
 – Start of spinning natural wool yarn and production of blankets, pillows, uppermats in the extension of the family house.


1998
 – Opening of the first such factory outlet in Selnica ob Dravi and Metlika (due to the largest number of breeders).


1999
 – Launch of organic wool laundry and expand the production of bedding throughout the family home.


2002
 – Reinforcement of the company with its own professional services (finance, development, marketing) and relocation of the factory outlet to the center of Selnica ob Dravi.


2004
 – Purchase of hall production and relocation of the company to its current location on Mariborska cesta 48 in Selnica ob Dravi. Modernization of spinning and sewing room hardware.
2004 
– Start of sales of products in our own shops in Rogla ski center and in Bled.


2006
 – The company opens its fourth factory outlet in Maribor, at Koroška cesta 5.


2010
 – Development and start of production of natural thermal and sound insulation from sheep wool – trademark: BIO wool insulation Soven.


2011 – The company opens its fifth factory outlet in Ljubljana on Ciril Method Square, then on Vodnikov Square and then on Gosposvetska Street.
2011
 – Construction of new, modern, ecologically economical premises on Mariborska cesta in Selnica ob Dravi (The facility is insulated with natural wool insulation of its own production). Modernization of spinning and sewing room hardware.
2011
 – Strengthening our own development service. Development of BIO felt for upholstery, apparel, construction, etc.… Setting up and starting a needle line.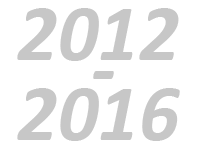 2012
 – 
2016
 – Soven organizes International Festivals / Felt Festivals with Slovenian Sheep Wool.


2015 – Development and start of production of BIO woolen beds – matresses Soven.
2015 – Development and start of production of BIO wool felt for horticulture and agriculture.
2019-2020 – Installation and start-up of an updated line for the production of Bio wool felt.
2021 – Preparations for the reorganization of the company and preparations for the transfer of the leadership function to a younger generation.
2022 – Management of the company and part of the capital share is taken over by son Žiga Srblin, B.Sc. textil. technologist.
2022– Investment in a modern sewing machine for BIO wool beds and bedding.
Certificates and recognitions
For us employees, the certificates obtained do not carry as much weight as the positive opinions of many users at home and around the world. Nevertheless, we are proud of what we have gained:
CERTIFICATE BIO Slovenia – confirms that we do not use any chemicals in our production
ETA CERTIFICATE – European technical approval for Soven wool insulation quality
CERTIFICATE Craftsmanship of Slovenia, ART & CRAFT – proof of handmade woolen knitwear Soven
ECO Institute and ÖKO-TEX STANDARD 100 CERTIFICATE – 100% Natural Latex Certificate of Use for Beds
GOLD RECOGNITION OF THE CELJE MUNICIPALITY FOR QUALITY AND ORIGINAL PRODUCT – SOVEN NATURAL LAND
numerous domestic and foreign awards of recognition for original natural products made from local materials
Trust the Slovenian manufacturer and see for yourself the home-made quality of the products.